Nordic Buy Out Forum 2021 – summed up
On December 2, Wiersholm invited the private equity industry and professionals working in M&A in the Nordics to our tenth annual Nordic Buy Out Forum. The overarching theme was: What trends and developments will shape the next ten years of M&A?
The conference kicked off with an overview of recent and upcoming trends from Wiersholm partner and host Jarle Kvam and ABG Sundal Collier's Are Andersen and Knut Brundtland.
They reported that Norway and the Nordics has seen record-breaking deal activity and landmark deals in 2021 and this looks set to continue in the short term, with an unprecedented level of dry-powder from sponsors and companies with healthy balance sheets under pressure to adopt new capabilities.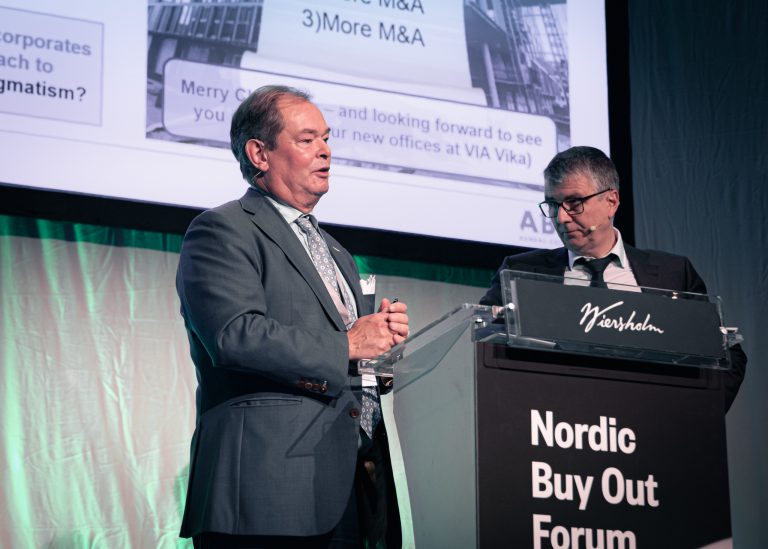 Knut Brundtland and Are Andersen
Part 1: Climate Change and the Road to Net Zero
The first section of the conference featured presentations from McKinsey & Company's Christer Tryggestad (EU towards net zero and potential implications for M&A), ArcTern Ventures' Kristin Aamodt and Tom Rand (Boom and bust, and boom again: What the next decade of cleantech investment will bring), Copenhagen Infrastructure Partners' Christian Skakkebæk (Opportunities of the green energy transition – from an Investor perspective) and Wiersholm's Svein-Helge Hanken and Anne Lise E. Gryte (Take-overs on Euronext Growth).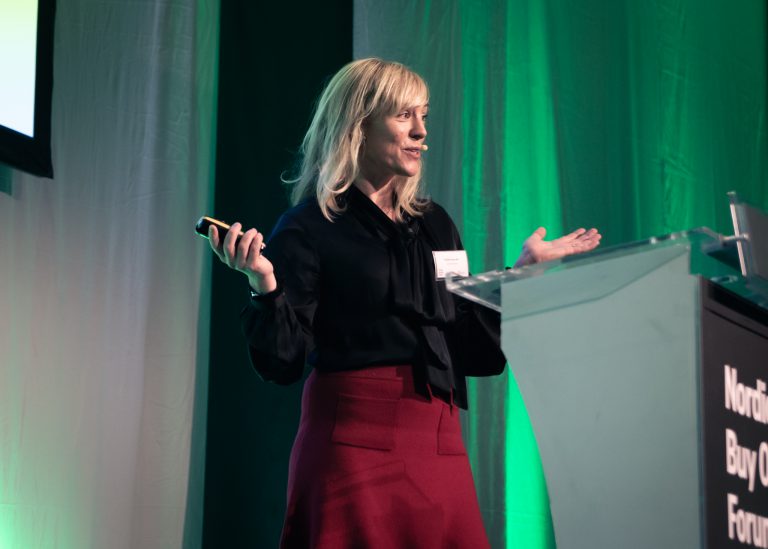 Kristin Aamodt
Key takeaways included:
2050 net-zero targets in the EU are the new norm and we can reach net zero with existing technology, at net zero cost, but we must invest differently to reach carbon neutrality capital demands
Cleantech investment is undergoing a resurgence since 2018 ('Cleantech 2.0'), with Europe becoming increasingly relevant with more unicorns and funding. An estimated $1.4 trn annually is required to keep us on course for the 1.5 degree target
Decarbonisation of the power sector will accelerate alongside decarbonisation of hard-to-abate sectors (where they either lack the technology or its cost remains prohibitive)
The wave of listings on Euronext Growth Oslo (over 100 in 2020/2021 with 50% being ESG companies) represents new M&A opportunities for innovative companies on a market less regulated than the Oslo Stock Exchange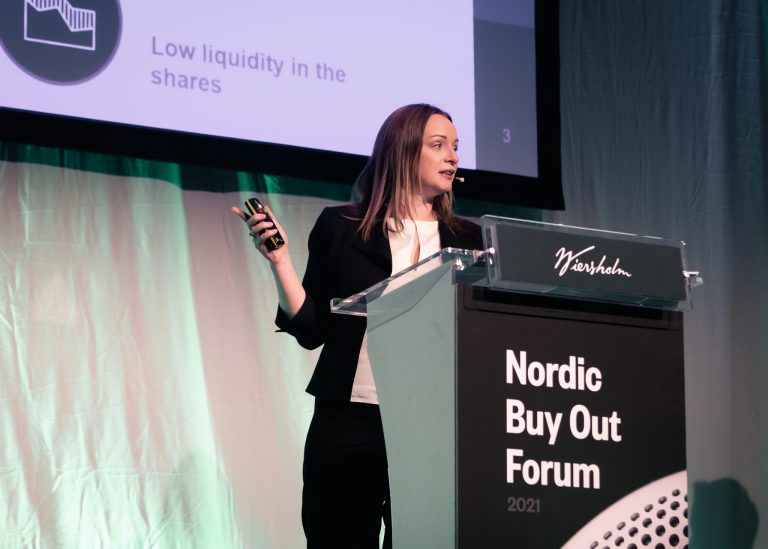 Anne Lise Gryte
Part 2: Next Stage of the Information Revolution
In this part, presentations were from HG Capital's Mikael Männik (HG – a new model of PE ownership) and Verdane's Bjarne Kveim Lie (Digitally enabled consumption – a driver of increased emissions or part of the sustainability solution?)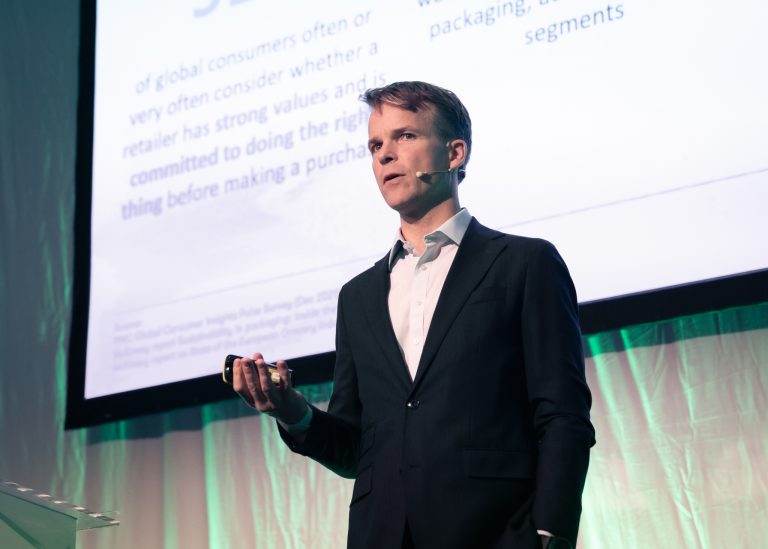 Bjarne Kveim Lie
Key takeaways included:
Reflecting the evolution of PE from '1.0' (a cottage industry) to '4.0' (an industrial strategy), Hg is taking a different approach to PE ownership, going on an ownership journey with Visma since 2006 and often sees it reinvest after exiting
Consumer attitudes are changing fast, with a willingness to pay more for greater sustainability of a product, and some ecommerce businesses are helping to address consumption-related issues across the life cycle of consumer goods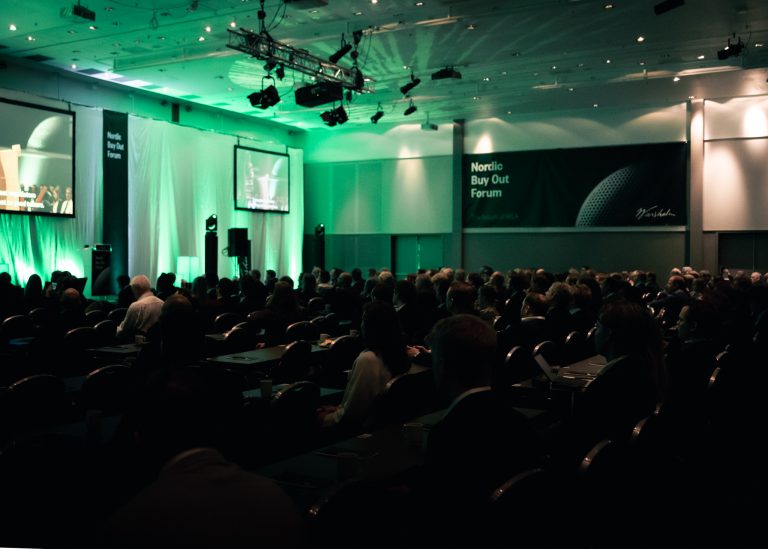 The crowd at Radisson Blue Scandinavia Hotel
Part 3: Road Ahead for PE
The final part featured Bain Capital's Halvor M. Horten (Transformations at scale – and on steroids), Summa Equity's Reynir Indahl (Can Private Equity save capitalism?), NVCA's Ellen Amalie Vold (ESG efforts in Private Equity), FSN Capital's Frode Strand-Nielsen and Rebecca Svensøy (Our commercial approach to ESG and net zero) and Bain & Co's Grete Rød (Direction of travel for the PE industry –
Nordic market implications).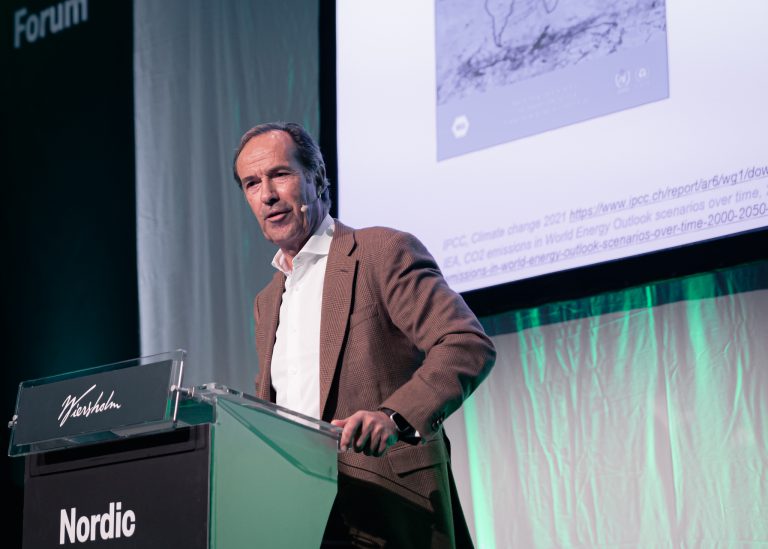 Frode Strand-Nielsen
Key takeaways included:
In a market with high M&A valuations for good targets, Bain Capital is focusing on less obvious, more complicated deals and a 'Transformation & acceleration' approach to value extraction in order to sustain strong returns
To solve the complex and systemic environmental issues we are facing today, PE has an important role to play, through a more systemic and cyclical approach to value creation ('PE 5.0')
Norwegian PE funds, currently sitting on NOK 120bn+ of dry powder, are ahead of their international peers on responsible investing and ESG policy, with all funds having or planning ESG compliance measures, with a strong focus on the UN Sustainability Goals
FSN Capital has committed to science-based emissions reduction targets and achieving net zero (one of the first PE firms in the world to do so), and worked with UK peers to develop science-based targets and guidance for the PE industry, something that the industry did not previously have.
With private capital expected to double or triple in the short term, Nordic funds (and other single region mid-size funds) may come under pressure from larger global funds, requiring them to differentiate through innovation, such as through new fund products and liquidity models.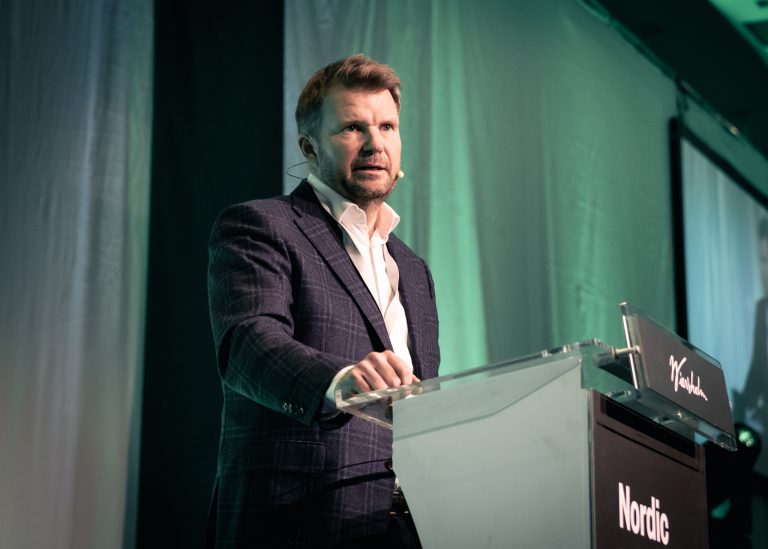 Reynir Indahl
All photos: Christine Engstad/Wiersholm
Do you want to take part in the 2022 event? Sign up now.